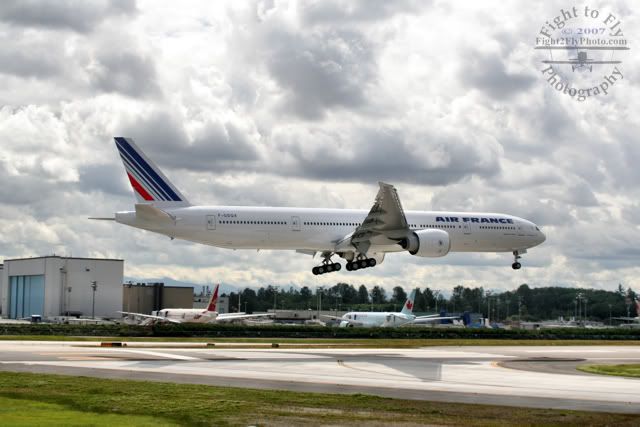 What can I say, it's a completely different world over at Paine Field! I wouldn't say it's better but certainly different. You cannot really compare the cozzy experience of a small, home-town airport to a bustling, massive airport such as Paine. In the last few weeks I've met legends in aviation (Mr. Bud Granley), seen legendary aircraft (P-51, Hellcat, B-17, B-24, B-25,) and get to work to the wonderful music of an unimaginable combination of aircraft sounds 6 hours a day, 6 days a week!
I finally have had a chance to get some pictures of some heavy metal and this morning shot an Air Canada 777-300ER, Asiana Airlines 777, Air France 777, JAL Cargo 767, Southwest 737, and two WWII bombers. Quite exciting! I also have some great pictures of Boeings 747-400 LCF that is used to transport major parts of the 787 from all over the world! Both sets are of it taking off while one shows it flying through a small cloud which creates a perfect illustration of the massive wake left behind such an aircraft!
One of the best parts of the whole experience of working here is getting to know new people. Since I hang out at the Future of Flight parking lot/viewing area after work almost every day I get to talk to all kinds of different people. I've come accross people I haven't seen in years and remembered great times from several years ago.
Enjoy!
To view and order prints of the photos I took, please click
here.